Term 5
This term our Topic has been growing. This term we were lucky enough to have eggs in the classroom and look after them as they hatched into cute, fluffy, little chicks!
Chicks
10 eggs were delivered by Farm Link to each class at the beginning of Term. The children were very excited to be looking after the little eggs and we discussed how we should behave around the eggs. We learnt all about the life cycle of a chick, how they grow inside the egg, what they eat when they are in there and how they use their 'egg tooth' on their beak to get out!
Each class was lucky enough to have at least 4 chicks hatch and the children were extremely caring and attentive to the chicks needs. It was lovely to see all the children enjoying the experience and having a little cuddle with the cute chicks. Everyone was sad to see them go.
English
This term we were learning about Jack and the Beanstalk. We wrote our own versions of the story as well as growing our own beanstalks to learn about what plants need to grow.
Our Author focus this term has been Neil Griffiths and we read the book 'If Only' about the caterpillar who doesn't know he is going to turn into a butterfly! We wrote some super diaries pretending to be the caterpillar and our experiences of turning in to a beautiful butterfly.
In week 4 we also made Cress heads and grew our very own cress. On the last day of term we used the cress to make egg and cress sandwiches and had a lovely picnic outside to celebrate all our hard work in Term 5.
Maths
In Maths we have been learning about positional language and how to tell the time. Although it was tricky, all the children are now super at reading a clock and telling them time!
Geography and Science
In geography and science this term we have been looking at where our food comes from and what plants and tree grow in the playground. We have been looking at the climate of different countries to see where plants can and cannot grow as well as looking at what plants need to survive.
We looked at the Cocoa bean and learnt all about where it is grown and some facts about the different countries it is grown in.
Next Term our topic is going to be 'Seasides'!
The spellings will continue to go out on Friday, please ensure you practise with your children and keep reading with them.
Term 4
This term our topic has been Birds. We have had a fantastic time learning about all sorts of birds and going on a wonderful school trip to Slimbridge!
Trip and events
At the beginning of the term, we had a visit from the RSPB who told us all about the habitats of bird, what they and where we might be able to spot them living in the school grounds.
In this term we also had book week and World book day! The children had a wonderful time being read to by other year groups and other teachers as well as having the chance to stay behind after school for some bed time stories and some hot chocolates!
Although our trip to Slimbridge was very soggy, it was a lovely, interesting day out. The children learnt more about what and how birds eat, where they and some children were even lucky enough to feed the birds from their hands. Thank you very much to the parents who volunteered to come and brave the rain your help was much appreciated!
English
The children have been doing some fabulous writing this term! They have written their very own stories about animals based on the Koala who could and The Owl who was Afraid of the Dark.
Maths
In Maths we have been learning all about measurement. The children are fantastic at measuring, length, weight, capacity and time.
History
With our topic being Birds this term, the children have been learning all about the History of flight! We looked at old and new aeroplanes, the first 'bi plane' and we learnt all about Amelia Earhart and her mysterious disappearance.
Next term our topic is going to be 'growing'.
The spellings will continue to go out on Friday, please ensure you practise with your children and keep reading with them.
Term 3 - Toys
Our topic this term was 'Toys.' We all brought our own toys to school and wrote about them in English. We then looked at our toys in Science and talked about the materials our toys were made from. We looked at the history of toys and compared old and new toys. We were really lucky and had some visits from grandparents who were kind enough to show us their old toys. We looked at a teddy that was 100 years old! We also had a lovely visit from The Toy Workshop where we pretended we were in a magical toy museum and visited different rooms.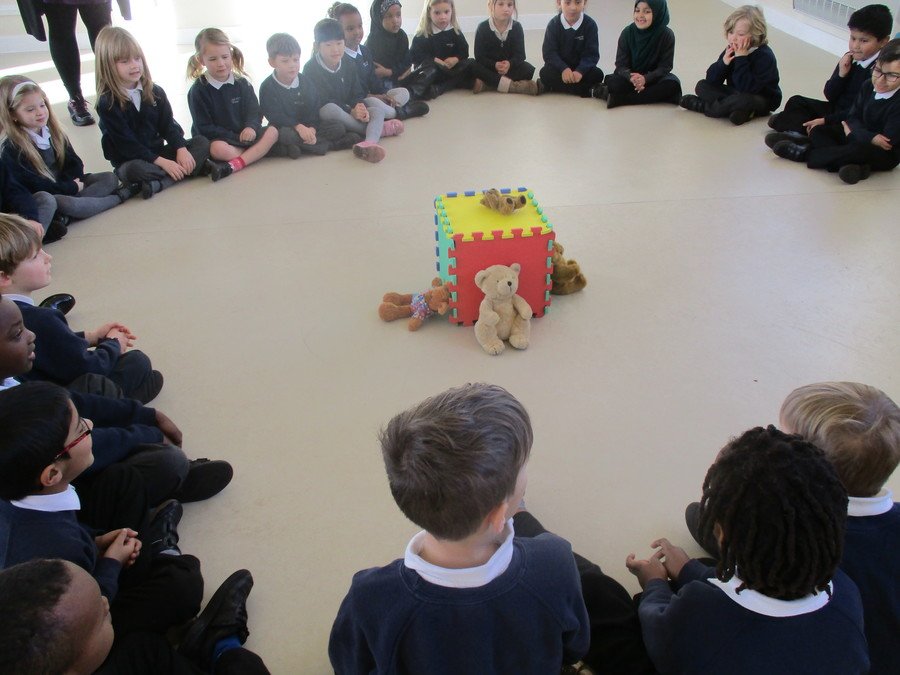 The Toy museum
We had a visit from The Magical Toy Museum which we loved! We used our imaginations and drama skills to imagine we were in an old museum looking at different toys. We visited 4 different rooms which had different toys in. We talked about the toys and looked at the materials they were made from and then we pretended to be different toys!
Visits from grandparents
We had some lovely visits from grandparents who told us about the toys they had from when they were children. We looked at a teddy bear that was 100 years old and we also saw a beautiful dolls house! We loved hearing about how precious the toys were and when our visitors had bought them.
Our theme for this term was dinosaurs.
We have been creating dinosaur fact files about the different dinosaurs we learnt about in our history lessons, focusing on what they eat, their special features, interesting facts and where they live.
Aust
We also had a fantastic trip to Aust where we learnt about what Bristol was like in Mesozoic era, and collected and took home our very own fossilised teeth, scales and shells. We read the story 'we're going on a bear hunt' and changed the rhyme to 'We're going on a fossil hunt' to create some super writing!
English
In English we read the text 'how to grow a dinosaur' and designed our own dinosaur traps! We also discovered a dinosaur footprint in our playground and discussed where it came from, why the dinosaur was here and what sort of dinosaur had visited in the playground.
Maths
In maths we were continuing with counting in 2's, 5's and 10. We read addition and subtractions stories and started to use number lines to help us with addition and subtraction.
History
In History we learnt facts all about dinosaur and all the different era's they lived in. We did fantastically well at learning all the difficult dinosaur names
Nativity
Mrs Cooke did a fabulous job of running our Nativity, 'The Inn Crowd' for Year 1 and 2 (180 children!). The children did some amazing singing and remembered all their lines, it was fantastic performance and it was delight to see so many parents, grandparents and carers attending.
Term 1 - Ourselves
Our topic this term has been 'Ourselves.' We have been learning about parts of our body and how our body works. We will be having a visit from a Physiologist from Bristol University who will be teaching us about our heart, pulse and our respiratory system. We had a visit from our local PCSO to talk about their daily routine and how they keep us safe, as well as a dentist to teach us all about dental hygiene and a furry little friend is going to help us understand all about the RSPCA.
Dentist Visit
Dr Lacey Bowen the Dentist came to visit us and told us all about her job and what she does to look after people's teeth. She talked to us about the things we can we can do to keep our teeth healthy and how to brush our teeth properly. After the visit, we wrote some instructions on how to brush your teeth to teach younger children how to keep their mouth healthy.
Police Visit
We had a visit from a local Policeman and a Police community support officer. They told us about their jobs, what they do, their daily routine, what they wear and what they carry. The children enjoyed trying on different police equipment such as their hats and helmets. The children then wrote their own fact file to inform people about who the Police are and what they do.
Hester
The children were lucky enough to have a visit from Hester, Mrs Allen's 7 year old Corgi. Mrs Allen talked to the children about what she does to look after Hester and how this has changed as Hester has grown older. We learnt that Hester loves tummy tickles and enjoys playing with her friend Milo in the Park. After Hester and Mrs Allen's visit, the children learnt about the 5 rights of animals, wrote a fact file all about Corgis and drew some lovely pictures of Mrs Allen and Hester with Ms Crofts in their art lesson.
Maths
In Maths the children have been learning to count in 2's, 5's and 10's, which they are fantastic at. They have also been learning their number bonds to 10 through song, games and equipment (click here to listen to number block ten again and here to play hit the button) as well as one more than and one less than. The children are great at Maths and we look forward to teaching them more about addition and subtraction next term.
Science
In science we have been looking at the different parts of our bodies, our senses, animals and the seasons. We have been doing active and outdoor learning, exploring animals and non-animals and looking at how the seasons have changed from summer into autumn and what will happen as autumn changes into winter.
If you would like to help your children with their learning at home, here are some useful sites.
Phonics Play
The children have learnt phase 2 and 3 and will be learning phase 4 throughout the term. Click here to play some interactive phonics games.
Topmarks Maths
The children have been counting up to 50. They have been practising counting forwards and backwards. Click here to play some interactive maths games.