Welcome to Year 3's Learning Page
Here, you will find out about all our magnificent learning and educational escapades! This year, we will be gathering knowledge on a diverse range of topics, producing creative and engaging pieces writing, securing our times tables and delving deeper into the world of problem solving!
There are some handy documents for you to view to give you a little more detail on our termly and yearly plans!
History
Did you know, the Viking era was over 1000 years ago? A lot has changed since then in our world! However, something closer to home that we have been learning about (and in more recent history), is World War 1. This year marks the centenary of its end. So, in November, Whitehall celebrated this with a week of learning about local people and places that were linked to the 'Great War'.
Year 3 visited Greenbank cemetery with historian Michael Gorley to look at the Commonwealth War Graves. We took wax rubbings of these and recognised that many of them were from near and far. We also researched the boys of Whitehall who went to fight in World War 1 too by using the information from the plaque in the dining hall. Some of our children or their relatives at this school now live in the houses of those fallen soldiers!
It was a fascinating week and we have to thank Mrs Sheppard and Miss Thomas for organising all the great activities and visits!
Design and Technology (Mmm...food)
Wow. You must make these apples. Glynn (our incredible head chef) gave us the bits and bobs to make these delightful (and healthy) festive snacks.
You will need:
Ingredients: Apples, dried fruit, sugar, butter
Equipment: Baking tray and parchment, an apple corer and teaspoon.
Method:
Core the apple.
Place it in a tray which has baking parchment in.
Now, mix together a tsp of sugar and a healthy tablespoon of dried fruit (your choice: we used apricots, dates, sultanas etc).
Squash the dried fruit into the cored apple.
Place a knob of butter on top.
Put in the oven for 25 mins.
ENJOY (maybe with some ice-cream...)!
Art
Every term, we are delighted to work with Mrs Began and Mrs Crofts on our art. This varies each time, but check out the beautiful autumnal trees we painted and the oil pastel Vikings - so life-like!
Practically Magnificent Maths
To get to grips with measure, Year three worked on some practical measuring challenges involving length, mass and capacity. Someone found Mr Heaton's smelly welly lying around and decided to see how much water it could hold! Millipedes measured its capacity at 5100ml! As you can see from the pictures, we were really trying to focus on accurate readings to complete each of the challenges.
Celebrations
We have been lucky enough to celebrate two religious festivals this term! Early in November, we had the most extraordinary Diwali day where children were able to feast on delightful Diwali delicacies, get henna and learn how to stick dance! We have also been winding down the dark mornings and afternoons in the build up to Christmas with nativities and were lucky enough to have Anne James visit to share the nativity story too!
Whatever you are doing this holiday, have a glorious time off!
Term 1
Click here for Term 1 Overview
Click here for Term 1 Newsletter
Dragons, dragons dragons!
This term, the children are working hard to become dragonologists. They have immersed themselves in the magnificent and mythological (or is it?) world of dragons: friendly ones, ferocious ones or even down-right daft ones! We have been using The Egg by M.P. Robertson to get our wondrous writing off to start this year - firstly retelling it and finally inventing our very own sequel! Year 3 have also worked with Mrs Crofts for a dragon-art day extravaganza, designing and painting dragon banners and dragon eyes...very mysterious. The results of this day were a testament to the children's excellent team work and creativity!
Photographs courtesy of Gabriel, Millipede Class
Below, you can see some of the other marvellous art that we have done over the term on display!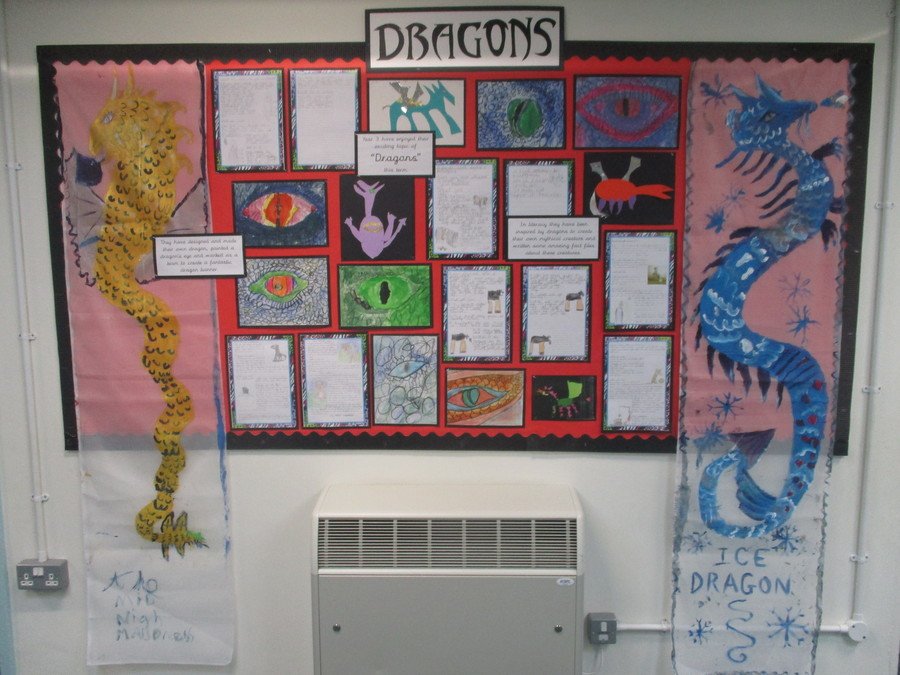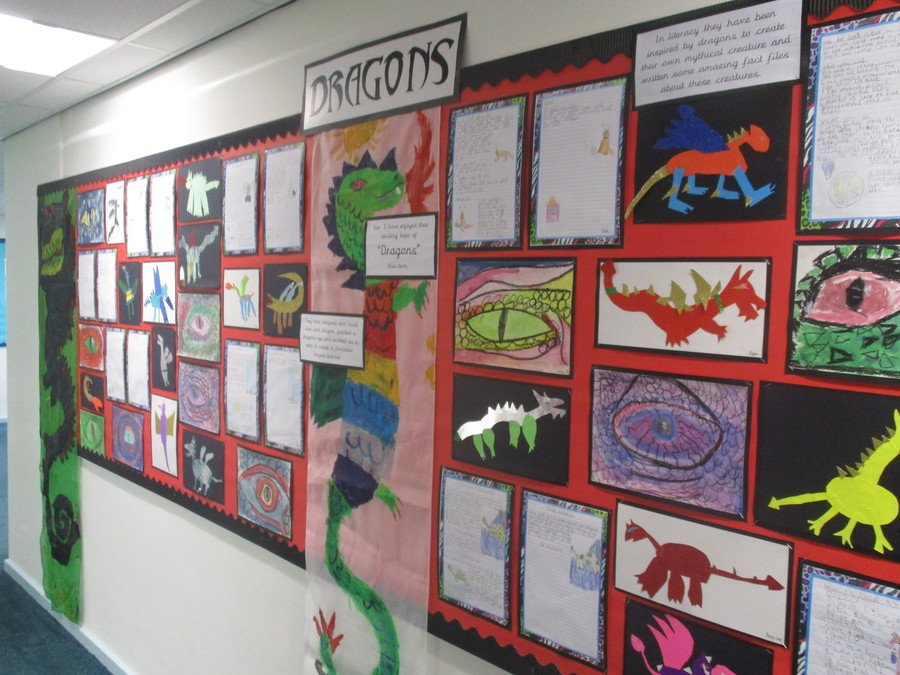 Science
This term, we have been investigating light and shadow. We have learned about natural and 'man-made' light sources. We discovered that light only travels in straight lines and can't bend around corners - this can only happen when reflective materials are used! We have also used natural and artificial light sources to investigate changing shadows. Have a peek at our pics to see what we've been up to!
PSHE (Personal, Social, Health Education)
In PSHE, we have been developing our team working skills and thinking about our roles in a team. Everybody has something unique and brilliant to bring to a group and we found out that certain roles included: organiser, mediator, 'do-er' and reporter. Which one are you? Our challenges have ranged from creating structures from marshmallows and spaghetti to making animals out of tin foil and recalling objects that we only saw for two minutes! How do you get on with them?
PE (Physical Education)
Over term 1, Year 3 have been showing of their splendid skills in Quick Sticks and improving their cardio with the team from Future Stars!
In Quick Sticks, we have been looking at how to manipulate the hockey stick effectively (only using one side!) to control the ball and how to pass and shoot with growing accuracy! Remember though: use your foot to control the ball and it's three press-ups for EVERYONE (including the teacher)!
The Future Stars team have taught us about a wide range of floor movements, including skips, hopscotch, gallops, hops and side-steps. Which ones can you spot below? We then apply our movements to a range of collaborative and competitive games. It has been so much fun working with Future Stars, so thank you Rich, Tyler and James!
Thanks to Alycianna for the photos!