Welcome to Year 3's Learning Page
Here, you will find out about all our magnificent learning and educational escapades! This year, we will be gathering knowledge on a diverse range of topics, producing creative and engaging pieces writing, securing our times tables and delving deeper into the world of problem solving!
There are some handy documents for you to view to give you a little more detail on our termly and yearly plans!
Term 2
Vikings, Vikings, Vikings
In term 2, our topic is all about the voracious Vikings. These were an invading, trading and settling people. What extraordinary stories will we learn about this term?
Our author focus is Cressida Cowell!
Our school trip will be to Folly Farm in the first week back so please read the letter for details (click here to read it).
Please click to see a Term 2 Overview of our learning here.
Term 1
Click here for Term 1 Overview
Click here for Term 1 Newsletter
Dragons, dragons dragons!
This term, the children are working hard to become dragonologists. They have immersed themselves in the magnificent and mythological (or is it?) world of dragons: friendly ones, ferocious ones or even down-right daft ones! We have been using The Egg by M.P. Robertson to get our wondrous writing off to start this year - firstly retelling it and finally inventing our very own sequel! Year 3 have also worked with Mrs Crofts for a dragon-art day extravaganza, designing and painting dragon banners and dragon eyes...very mysterious. The results of this day were a testament to the children's excellent team work and creativity!
Photographs courtesy of Gabriel, Millipede Class
Below, you can see some of the other marvellous art that we have done over the term on display!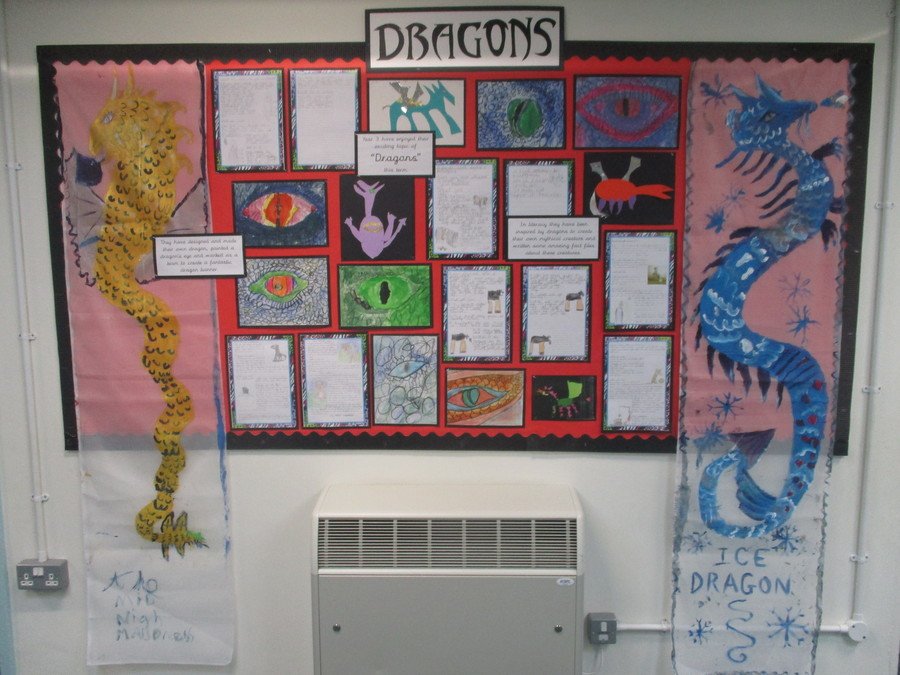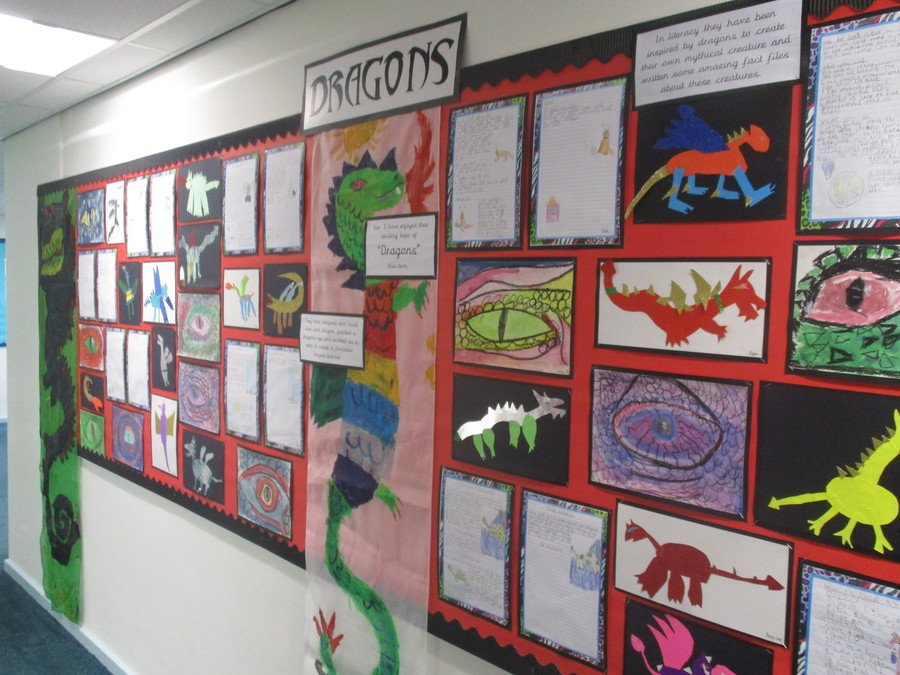 Science
This term, we have been investigating light and shadow. We have learned about natural and 'man-made' light sources. We discovered that light only travels in straight lines and can't bend around corners - this can only happen when reflective materials are used! We have also used natural and artificial light sources to investigate changing shadows. Have a peek at our pics to see what we've been up to!
PSHE (Personal, Social, Health Education)
In PSHE, we have been developing our team working skills and thinking about our roles in a team. Everybody has something unique and brilliant to bring to a group and we found out that certain roles included: organiser, mediator, 'do-er' and reporter. Which one are you? Our challenges have ranged from creating structures from marshmallows and spaghetti to making animals out of tin foil and recalling objects that we only saw for two minutes! How do you get on with them?
PE (Physical Education)
Over term 1, Year 3 have been showing of their splendid skills in Quick Sticks and improving their cardio with the team from Future Stars!
In Quick Sticks, we have been looking at how to manipulate the hockey stick effectively (only using one side!) to control the ball and how to pass and shoot with growing accuracy! Remember though: use your foot to control the ball and it's three press-ups for EVERYONE (including the teacher)!
The Future Stars team have taught us about a wide range of floor movements, including skips, hopscotch, gallops, hops and side-steps. Which ones can you spot below? We then apply our movements to a range of collaborative and competitive games. It has been so much fun working with Future Stars, so thank you Rich, Tyler and James!
Thanks to Alycianna for the photos!