2021-2022 Year 2 Learning
Term 2
Our topic this term is 'Superheroes'. We will be exploring the characteristics of Superheroes, reading lots of Superhero stories including books by Bob Graham, Giles Andrae and Mini Grey. The children will create their own Superhero stories and have the opportunity to come to school dressed as a Superhero on 'Superhero Day'. This term the focus for our Maths learning will be exploring addition and subtraction as well as place value and shape.
Our science topic is animals including humans where we'll be finding out what animals and humans need to survive. We'll also be learning about how humans grow and what food, exercise and hygiene we need to stay super!
What a great start to the year, we are so impressed with how well our wonderful children have settled in to Year 2, they are all brilliant!
Term 1
This term our topic has been 'Our Wider World' and the children have shown great interest in finding out about ways we help our world from recycling to protecting wildlife.
In English we have been researching endangered polar creatures and learnt so many facts about blue whales and polar bears and wrote amazing information texts all about them! Did you know a blue whale's heart can be as big as a car? We also imagined that we had explored the Arctic and discovered a mythical polar creature that we wrote wonderful reports about.
We have also been finding out about the amazing life of Mary Seacole, as part of Black History Month, and imagined what a day in her life during the Crimean War would be like so that we could write a diary entry from her point of view. What an incredible lady!
Our WOW world day was a super day for everyone! We all chose a country and dressed in a way that represented it – we had koalas, pandas, children in traditional dress and children wearing all colours of the rainbow to represent the flags of their countries. We researched our chosen country, finding out where it is in the world, what animals live there and their traditional food. Because we have been finding out about ways to help our world, we then made wishes for the future of our world and recycled junk to make new things.
This term we welcomed Richard, a volunteer from Greenpeace. He spoke to the children about endangered animals and the children learned how we can help to protect the world's Orangutan population by only using products with sustainably produced palm oil.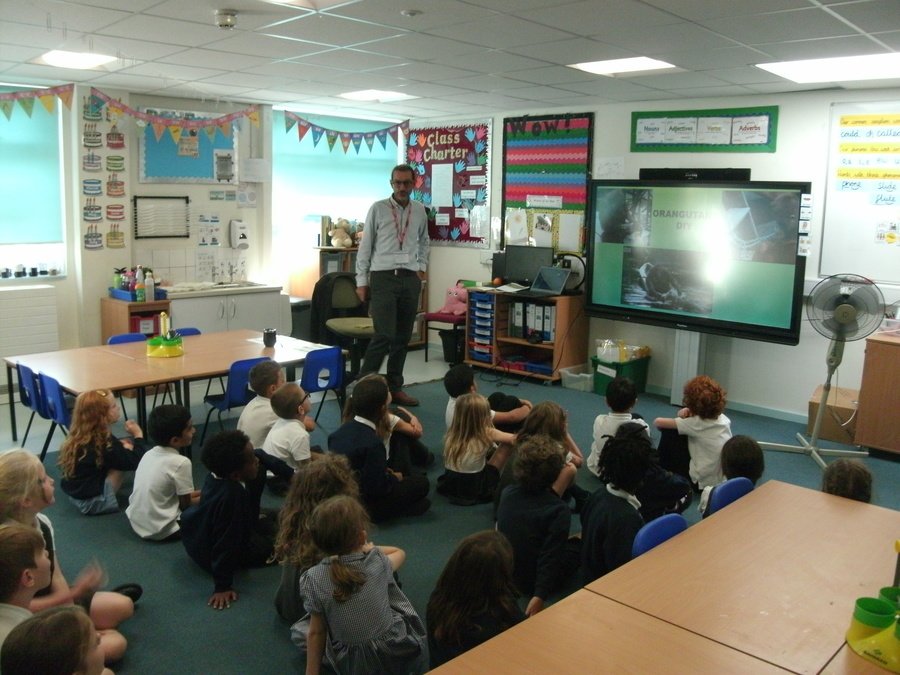 In maths, we have been revisiting place value and number facts and have been using a range of practical resources to secure our understanding of the place value of 2-digit numbers. We've also been discovering how to use our knowledge of small number facts to help us know the number facts of much bigger numbers. For instance, if I know that 4 + 6 = 10 then I also know that 14+6 = 20 and 40 +60 = 100!
We've been learning all about the continents of the world in geography and finding out about the 7 wonders of the world. We have mapped the continents, the oceans and the equator and learnt where to find cold, temperate, warm and tropical climates and what sort of animals live there. In addition, we have been learning about compass directions and used them to direct our partners on a trip around the world!
We conducted an experiment in science to find out what plants really need to grow and made some very interesting discoveries! Did you know that a seed can germinate and grow without soil? We have grown our own sunflowers and French beans from seeds, found out about how plants spread their seeds and why leaves are green! We have been practising the scientific skills of observing, making predictions and thinking about ways to ensure a fair test.