Welcome
to
Year
5's
learning
page!
Term 6 - Rainforests
In our final term of the year, Year 5 will be diving deep into the mystical and mysterious world of the rainforests. We will look at the ever-changing landscape on our Earth's greenbelt, map and research deforestation and its affects on our planet and its communities and the animals that live in these habitats.
Here, you will find out about all our magnificent learning and educational escapades! This year, we will be gathering knowledge on a diverse range of topics, producing creative and engaging pieces writing, securing our times tables and delving deeper into the world of problem solving!
There are some handy documents for you to view to give you a little more detail on our termly and yearly plans.
Term 5 - London
Welcome to London everyone! This term, we explored the magnificent city of London (digitally, creatively and geographically!). We studied the marvellous monuments and landmarks as well as focussing our learning eyes on the London... Eye. It was at the centre of our learning this term: we began reading The London Eye Mystery by Siobhan Dowd as our class read and considered ways in which we believe it to work.... Did you know that some people believe the London Eye is powered by enormous motors and held up by a reinforced steel A-Frame? Well, actually it's cleverly counterbalanced and energised by a hardy group of hamsters running on a treadmill being chased by cats... I know: unbelievable!
Term 4 - Hidden Worlds...
This term, we studied mysterious hidden worlds! To begin with, we explored the magnificent picture-book Journey. We used it as a hook for our own creative writing and it was a really brilliant way for us to make predictions about what happened next... We studied the structure of the story in detail too which enabled us to write our own versions and parts of the adventure.
We also completed a unit on persuasive writing. We learnt all about the issues surrounding big cats being used as circus animals and the sad story of Morgan, an Orca whale trapped in captivity. We then used a variety of persuasive writing techniques to compose letters demanding that these animals be set free!
We were lucky enough visit the Big Pit National Coal Museum, where we ventured 300 feet underground to see what life was like for the thousands of men who worked at the coal face. We also got to visit the King Coal Mining Galleries, which was an exciting audio-visual experience telling the story of how the Welsh mining industry evolved.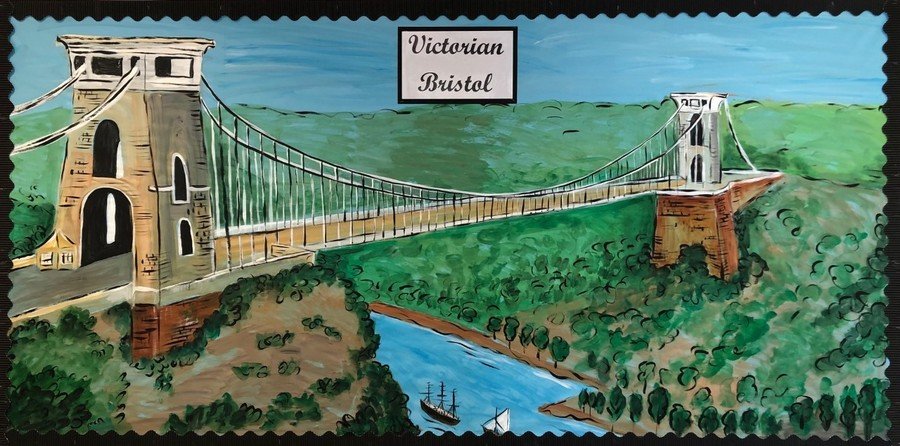 Term 3 - The Victorians
This term, we have studied the magnificent Victorian Era with a focus on Bristol. It was a time of great invention, industry and progression, with the all-important Elementary Education Act of 1870 making it compulsory for children to go to school between 5 and 12! We have researched local history and looked at a variety of sports, games, toys, foods, schools, workhouses and more! Phew!
By reading Street Child (by Berlie Doherty), we have learned so much about the plight of Jim Jarvis and the street children of this pivotal time. The ending was quite incredible! Wait until you read it... On top of that, we have read about the gritty details of the workhouses and schools of the Victorian Era and the speed at which industry grew!
At the end of this term, we studied Alfred Noyes' The Highwayman, adapting it to make our own versions, including our very own Highwaymen and women.
We celebrated all things Victorian by having a Victorian Day at school! We travelled back in time to see what life was like in the Victorian times with a visit from the History Squad, by creating Victorian crafts and by playing some traditional games! Check out the pictures below! Can you identify any of the strange objects and guess what they were used for?
Term 2 Intrepid Adventures
The children have had a fantastic second term learning all about Intrepid explorers. In English, they have been writing biographies about the great Laura Dekker and the inspiring Matthew Henson. They have also written their very own amazing adventures stories based on the book 'The Great Explorer'. We were really impressed by the descriptive language and creativity the children had when coming up with their own tales. We then made these into little books to take home. Towards the end of the term, we have been looking ta newspapers. We wrote a range of the things for our class newspaper, 'The Explorer weekly', including a persuasive advert, an interview with an explorer, instructions on how to survive in the rainforest and an article about a bear appearing in the school playground!
In Maths, we have been focusing on multiplication and division. The children have learnt formal, written methods to help them quickly solve number problems. We have also been looking at the properties of shape and how to classify them, in addition to measuring and calculating angles.
In science, we have been exploring forces and completed our own investigation about friction, making sure it was a fair test. In geography, we have been learning how to read maps with 6-figure grid references and learning how to read contours on a map too. We have been lucky to have Ms Begen teach some of our Art lessons. We have been focusing on Music in Art and looked at some great abstract classics, such as Picasso and Kandinsky.
Orca and Narwhal enjoyed their time at swimming and have improved lots over the last terms. It will now be the turn of Walrus class to go each Wednesday. Please check the new PE timetable above for which days your class are going swimming.
Term 1 Ancient Greece

Here we are! Welcome to Ancient Greece... This term, we will be delving into a world which is surrounded with magic, mythology and monsters! We will discover heroes, heroines and evil beings...
Our author of the Term will be Maz Evans, we will be reading her book 'Who let the Gods out?' as our class story, learning all about what Elliott gets up to when Zeus, Virgo and Hermes suddenly drop on his doorstep!
As part of their Ancient Greece topic, Year 5 had a brilliant day taking part in a variety of exciting Greek-themed activities! In the morning, we took part in the Whitehall Olympic games. There were five sporting events that each class competed in: javelin, discus, long jump, relay and sprint. We discussed how the Olympic events have changed since ancient times; for example, chariot racing is no longer an event! After this, we designed and made our own olive wreaths (which were used to crown the winners of the Olympic games) and Greek-style shields. In the afternoon, we prepared and tasted some delicious Greek food – pitta chips with homemade tzatziki dip and a Greek yoghurt dessert topped with honey and watermelon. To complete the day, we finished by reading a variety of Greek myths.
In English, we have been doing lots of fantastic writing, including creating our own myths and mythical creatures, learning about Ancient Greek Olympics and improving our debating skills by deciding if we would rather live in Athens or Sparta. The children made some fantastic artwork of their own mythical creatures using oil pastels. All teachers have been really impressed by the effort the children have put into their work and the quality of their writing.
In Maths, we have been improving our addition, subtraction and problem solving skills. In particular we have been focusing on how to calculate mentally in a variety of ways.
In Science, the children have thoroughly enjoyed exploring space. We have learnt about the first British astronaut to visit the international space station (Tim Peake) and explored how the Earth, moon and planets move around the Sun. We have discussed the reasons why space travel is important and how theories about the universe have changed over time as technology has advanced and our scientific understanding has improved.
Please click the following links to download more information about this term's topic: