Welcome to Year 5's Learning Page
Here, you will find out about all our magnificent learning and educational escapades! This year, we will be gathering knowledge on a diverse range of topics, producing creative and engaging pieces writing, securing our times tables and delving deeper into the world of problem solving!
There are some handy documents for you to view to give you a little more detail on our termly and yearly plans!
Welcome to London everyone! This term, we have been exploring the magnificent city of London (digitally, creatively and geographically!). We have been studying the marvellous monuments and landmarks as well as focussing our learning eyes on the London... Eye. It is at the centre of our learning this term: we are reading The London Eye Mystery by Siobhan Dowd as our class read and have been conjuring up the most creative ways in which we believe it to work.... Did you know that some people believe the London Eye is powered by enormous motors and held up by a reinforced steel A-Frame? Well, actually it's cleverly counterbalanced and energised by a hardy group of hamsters running on a treadmill being chased by cats... I know: unbelievable!
As well as exploring the capital city, we have taken the opportunity to celebrate our wellbeing - by having a WELLBEING DAY! It was utterly awesome and gave us the opportunity to kick back and relax and focus on all things mindful: breathing calmly, being grateful and charging around in the sunshine (Vitamin D and Dopamine: tick!).
Check out the photos of our 'gratitude candles' (every time we will light them, we will think of what we are grateful for!) and our outdoor games: dressing up relays, circle games and, of course, parachute fun!
We also listened to four differing pieces of music and used these to inform our drawing... divide a piece of paper into four and 'draw what you hear'. Here are the tracks:
Choreograph by Gilligan Moss
Mali by Kalaban Coura
Spoiler by Baloji
Parce Mihi Domine by Jan Garbarek, Crostobal de Morales and The Hilliard Ensemble
Term 4 - Hidden Worlds...
This term, we began in lockdown! But, that didn't keep our zest for learning down! We started our topic looking at mysterious hidden worlds. To begin with, we explored the magnificent picture-book Journey. We used it as a hook for our own creative writing and it was a really brilliant way for us to make predictions about what happened next... We studied the structure of the story in detail too which enabled us to write our own versions and parts of the adventure.
Take a look at the glorious learning that took place below! From maths and writing, to reading and art, we covered a lot! Well done Year 5 - how impressive you are!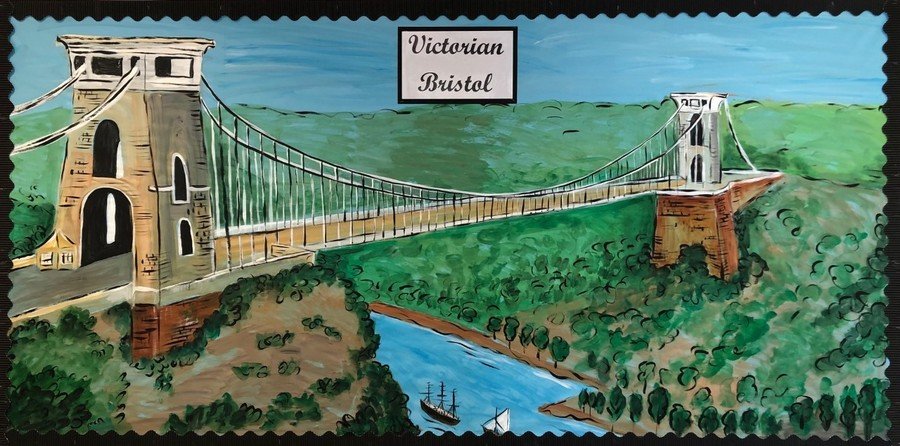 Term 3 - Victorian Bristol
This term, we have studied the magnificent Victorian Era with a focus on Bristol. It was a time of great invention, industry and progression, with the all-important Elementary Education Act of 1870 making it compulsory for children to go to school between 5 and 12! We have researched local history and looked at a variety of sports, games, toys, foods, schools, workhouses and more! Phew!
By reading Street Child (by Berlie Doherty), we have learned so much about the plight of Jim Jarvis and the street children of this pivotal time. On top of that, we have read about the gritty details of the workhouses and schools of the Victorian Era and the speed at which industry grew!
At the end of this term, we studied Alfred Noyes' The Highwayman, adapting it to make our own versions, including our very own Highwaymen and women.
Take a look at some of the gorgeous example of work from our home learners as well as our school learners! We'd like to say a huge thank you and well done to all the children and families, especially this term, as you have been adaptable, open and hard-working throughout! We really admire everyone's strength and dedication and we are so grateful to be working with you through a particularly complicated time.
Home-made Victorian Toys!
Have a read of this gloriously eerie take on The Highwayman, written by one of our very own Year 5s!
Poppy galloped in the moonlight, her midnight black scarf and cloak flapping limply in the wind. Springs of her blood red hair bouncing up and down. The dense blanket of fog made her hard to spot and Poppy often blinked to clear her view. Her jet black horse whinnied and she hushed him. Above them, the moon was a ghostly galleon. The clouds roamed the tossing trees like predators hunting in the midnight sky and the trees leaned forward with their crooked fingers and gnarled roots. Deadly and dangerous, Poppy was famous throughout the land and tonight would be no different...
Once at her hideout, she went to speak to the stable boy, Billy, whom dreamed of being a highwayman and respected her. Leaning down to whisper in his ear, she told him, "I am after a prize tonight. The carriage of Lord Mathlberry is passing by this road and it contains four hundred million pounds. Watch for me by daybreak." Little did Poppy know that a one of Lord Mathlberry's messengers was eavesdropping on this private conversation…
Lord Mathlberry's carriage trotted past quietly. All of a sudden, Poppy leapt out of the bushes. She fired into the air. BANG, BANG, BANG! The soldiers now momentarily startled, Poppy threw a thin gleaming, wicked dagger at the back of the carriage. She hurtled another at a servant holding a cradle of apples, flung the cradle under the spot she had hit with her first dagger and lunged at a guard, knocking him off balance. Through the chaos she slipped away to the cradle where an unreasonable amount of gold was slipping through the cracks.
Poppy smiled and galloped away to her hideout. Poppy glanced around and frowned. The horses whinnied and stamped their hoofs. Billy was nowhere to be seen. Instantly, Poppy knew something was wrong. Billy was always at the door, waiting eagerly for her to return. Where was he? Suddenly, she spotted a piece of claret velvet hanging loosely from a fallen tree trunk. It had Lord Mathlberry's insignia. Poppy gasped aloud. Billy had been captured by Lord Mathlberry's soldiers and she was responsible for saving him.
As she neared the castle, she spotted hundreds of guards with muskets at their side. Desperately outnumbered, she fired into the air hoping that she might use this distraction to slip away. However, it only attracted more guards. She saw a gleaming bullet slice the air towards her and agony ricocheted through every one of her limbs. She saw the world become black and then she fell and didn't get back up again.
In the starlight, people say that you can spot a highway women galloping in the moonlight, her midnight black scarf and cloak flapping limply in the wind. They say you can see springs of her blood red hair bouncing up and down. The dense blanket of fog makes her hard to spot and she often blinks to clear her view. Her jet black horse whinnies and she hushes him. Above them, the moon is a ghostly galleon. The clouds roam the tossing trees like predators hunting in the midnight sky and the trees lean forward with their crooked fingers and gnarled roots. And you can hear her searching for someone named Billy…
Term 2 - Intrepid Adventures
Welcome to all our intrepid adventurers! This term, we will be undertaking mighty learning journeys to the extremes of our planet. From north and south to east and west, from freezing cold to sizzlingly hot and from the depths of the jungle to the fathomless oceans, Year 5 will cover it all. We will learn of real-life heroes who have achieved some of the greatest feats of humankind...
Please click the following links to download more information about this term's topic:
Year 5 LOVED getting involved with different activities! The lucky children got involved with an archery workshop where plenty of children hit an bullseye! Later, children took part in a bush craft activity where they practiced lighting fires and toasting their own dough rolls. After lunch, Year 5 took part in team building games where they solved a range of fun problems collaberatively . Finally the the day ended with orienteering. Children trekked the fields looking for clues using maps to win a challenge. Overall Year 5 had an incredible day as intrepid explorers,

Term 1 - Groovy Greeks
Here we are! Welcome to Ancient Greece... This term, we will be delving into a world which is surrounded with magic, mythology and monsters! We will discover heroes, heroines and evil beings...
Please click the following links to download more information about this term's topic: